Aware, Sociable, Healthy and Active Seniors Project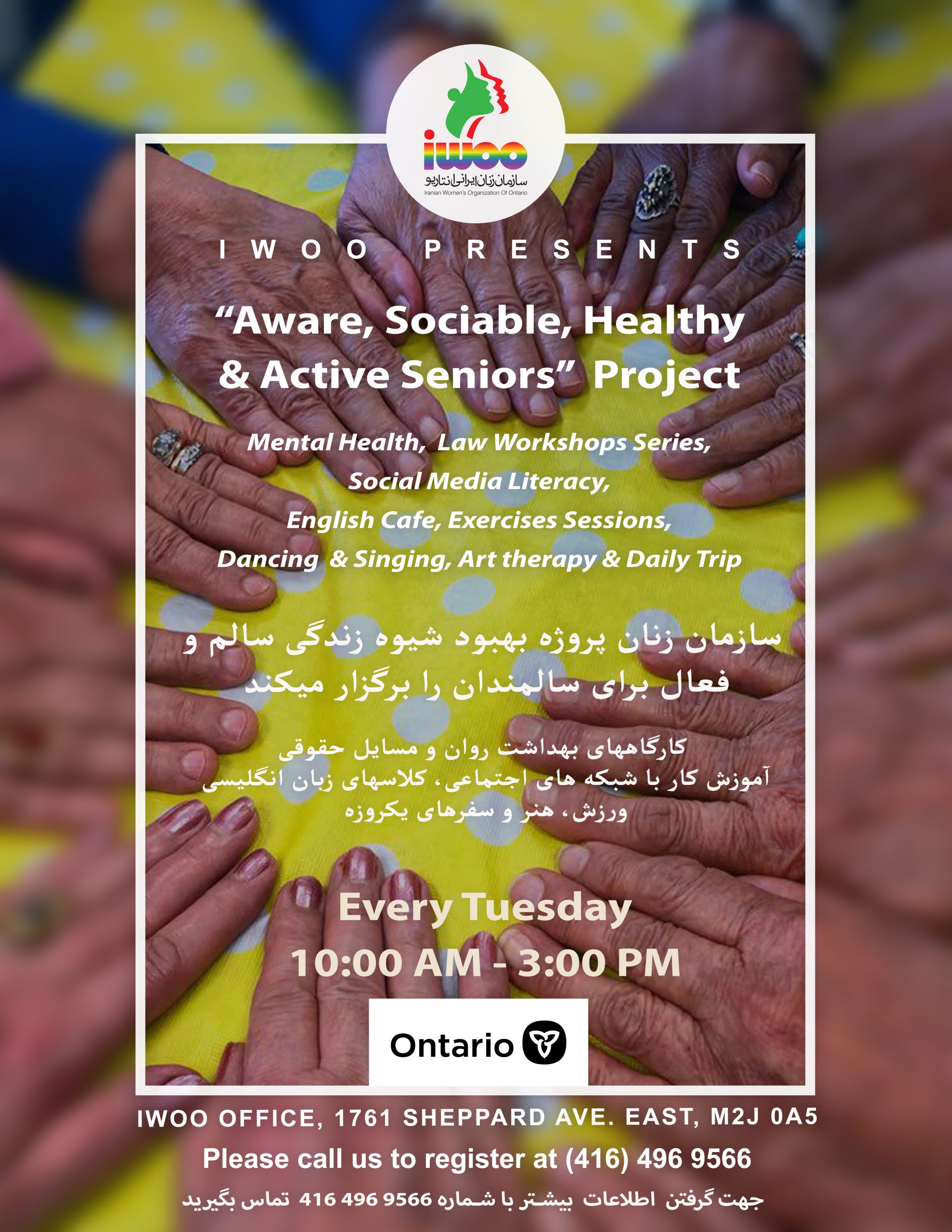 SOME OF OUR WEEKLY OFFERING ACTIVITIES FOR THE SENIORS: 
Learning English as a second language has been shown to decrease the risk of developing dementia, improve decision-making skills and make international travel less stressful. It also improves communication skills, helps you achieve greater independence and communicate more effectively with people in the community.Language and disabilities are the top two barriers to seniors' inclusion and participation in community programs. This project aims to eliminate these barriers and to increase accessibility for the most marginalized older adults within our community.
We offer weekly activities including adapted exercise and fitness sessions such as light yoga and Strength, Balance and Flexibility exercises to make your muscles stronger and help prevent falls. Also, regular exercise can help seniors reduce their chances of injury, prevent chronic diseases, and boost their mood. These classes provide a source of fun, stress relief, and a place to meet friends. Active Choices is a six-month physical activity program that helps individuals incorporate preferred physical activities in their daily lives. it maintains or improves self-confidence and personal happiness.
Allowing seniors  to interact in an environment that celebrates a healthy and active lifestyle.  Games are fun and provide an opportunity for socializing.
The program is offered every Tuesdays from 10:30 AM to 3:30 PM. For more information please contact 416-496-9566
DELIVERING EDUCATIONAL WORKSHOPS FOR SENIORS ON RELEVANT TOPICS INCLUDING:
Elder abuse awareness
Mental Health
Healthy active lifestyles
Training to prevent dementia
Legal matters
These workshops promote healthy living, keeping your mind healthy and active to prevent dementia, abuse awareness (mental, physical, financial), information for legal issues. 
Our art classes provide seniors with opportunities to feel welcome and included in their community while being creative and active. Art classes focus on diverse creative techniques including painting, drawing, making handicrafts, and more. With directions and encouragement from our professional instructor, learn to create artworks, practice skills, relieve stress and promote self-awareness. It is a chance to go on a journey that you may have always wanted to take.
Digital & Social Media Skills
In learning digital and social media skills, seniors gain the possibility to engage in meaningful social contact by joining online social networks. This helps with overcoming loneliness, relieving stress, and raising feelings of control and self-efficacy. Also, older users can maintain contact with friends, families and colleagues. Many users now rely on social network platforms to help manage their daily communications—sharing links, photos, videos, news and status updates with a growing network of contacts.
SOME OTHER ACTIVITIES:
Day Trips
Celebrating Cultural Events
Additionally, there is an opportunity for inter-generational interaction and volunteerism, where the seniors will be provided opportunities to volunteer their time and knowledge to teach the younger generation Farsi language through storytelling and social gatherings. This will be a mutually beneficial opportunity where youth also share their skills in using social media and technology.
Founded by: